"
Le canard, Il dit quain, quain
." means "The duck says quack, quack" for you Anglophile peasants.
I have always gotten a kick out of Homeopathy. I agree that's a strange place to find your kicks. But if the shoe fits. ..
What I love about
Homeopathy
is that the practice is based on a paradigm that I would describe as pure sophistry, and the practitioners are quacks. That said, these folks can be pretty entertaining.
My favorite story, which I won't bother documenting comes from the recent British trail "concluded that homeopathy is no more effective than placebo". A BBC interviewer asked how many homeopathic medicines can work when they are so dilute that they cannot possibly contain a single molecule of the active ingredient.
The Homeopathic practitioner quacked back something like ; "Well, you see,the nature of the pure water is changed." I love magik too!
I promised a joke, so here's the joke: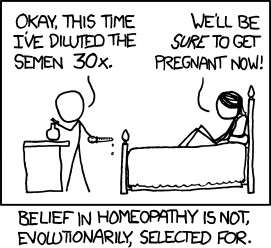 OK, you got your joke. Now Laugh, Dammit!!
BTW I spent Sunday afternoon with Hangininsac's official
Brooding Dutchman
. Expect a deep thoughts posting soon. You've been warned.
That's my story and I'm sticking to it.